The story of Physis Laboratory begins in Thessaloniki many years ago, when the pharmacist Spyros Nikolaidis founded the first pharmacy of the Nikolaidis family. In 1972, the pharmacist tradition is continued by his son, Giorgos Nikolaidis. It was there that the grandson Spyros Nikolaidis first discovered the fascinating world of pharmacology.
Spyros understood from the beginning that the pharmacy is not just a store that sells pharmaceutical products, but a place where the pharmacist has the ability to improve people's quality of life. Through his daily contact, he realized that each person has different medicinal needs and that personalized therapeutical services could solve the many problems arising from the standardized process.
His father's premature death forced Spyros, still a student at the Aristotle University of Thessaloniki, to take over the pharmacy at a young age.
Taking advantage of the pharmaceutical experience he had already acquired, he continued the family business, while upgrading its philosophy and reaching more towards nature, homeopathy, herbal and alternative medicine. Hence, he renamed the family business "Pharmacy of Nature".
Wanting to expand the know-how of the pharmacy services, he specialized in alternative medicinal therapies. At the time, he met Olga Akrivou, whose passion for herbs and natural healing methods perfectly complemented his own. Soon, they started planning an even more ambitious and long-term vision for the future of the business. They came up with new ideas, implemented modern formulations and created for the first time their own natural preparations, gaining valuable experience in the research and development of therapeutic products.
This effort escalated in 2010, when, in the midst of Greece's worst economic crisis, they decided to establish the country's first complete laboratory of personalized and alternative treatments.
Within only a few years, the modern, Physis Laboratory's lab serves patients, healthcare providers and pharmacies all over Greece on a daily basis.
In 2018, physislaboratory.com was launched, an innovative e-shop offering wellness, nutrition, hygiene and self-care products based on natural Greek ingredients. Its goal is to make effective products and pharmaceutical treatments accessible to people from all over Greece and abroad.
Today, both co-founders of Physis Laboratory continue to seek new ways to improve the life quality of fellow human beings and the services provided to physicians and healthcare providers.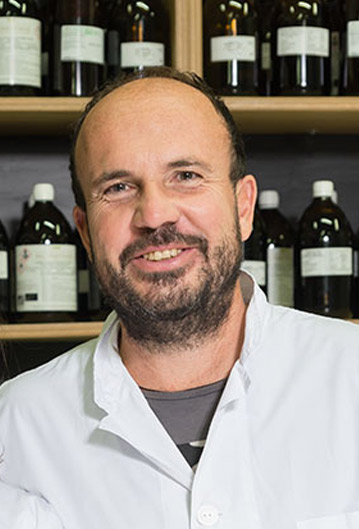 Spyros Nikolaidis, Founder & Lab Director
"Since I was a child, I remember constantly being in the laboratory. That's how my passion was born."
Pharmacist graduate of the Aristotle University of Thessaloniki, graduate of the Greek Homeopathic Medical Society and experienced practitioner of the German homeopathic practice.
"We want to highlight the pharmacist profession. Pharmacist (φαρμακο- + -ποιός) is the scientist concerned with the preparation, use and disposal of medicines."
Economics and Business Administration graduate, pharmaceutical technician and pharmacist's assistant graduate.
Olga Akrivou, Co-Founder & Pharmacy Director